Daily Check-In Calls for pet owners living alone
Take the worry out of living alone with a pet. Iamfine's automated daily check-ins will notify your entrusted people if you can not care for your pet for some reason. If you don't respond to daily check-in calls - we will notify your friends or family to check in on your pet.
Trusted by pet owners in the U.S., Canada, and the U.K. What a relief my experience with IAMFINE is to me.

I have been alone for a very long time, am the last one living in my family. My main concern is my little pet cat. She has been my constant companion for nearly nine years. Should something unforeseen occur, the care of my loving little pet weighs heavy on my mind. I am so worried that she would be left alone with no food or water with no one even knowing she was in dire straights.

Now I can rest easy. "IAMFINE" monitoring my home with a daily phone call assures me that someone will notify my contacts should I not answer my phone.

The cost is a fair price to pay for peace of mind both for my welfare and that of my pet. The service gave me peace of mind. I stopped worrying about my cats feasting on my deceased body knowing I would be found way before that happened. I LOVE this service. I'm not a senior, but I do live alone with my much loved dogs. I used to worry a great deal that something could happen to me and that my dogs would suffer for days before anyone noticed I was "missing". I was so thrilled to find this service this past year, and that the technology was SO well done.

I can't even put a value on the peace of mind this service gives me. Thank you!!!! I live alone and I always worried that if something happened to me, my dog, Molly, would be alone for possibly days until someone came over or called. I signed up with Iamfine and I receive an automated phone call every morning. I respond by pressing the number 1 and that lets the service know that I am ok. When you sign up you form a care circle of people you want contacted if you do not respond to the call. Since I joined Iamfine the security and peace of mind that I get from that phone call every morning is worth 10 X what I pay for the service. I love it.
Have Peace of Mind - Someone Will Be Caring for Your Pet
If you don't reply to our calls multiple times, someone from your care circle will go and check on your pet. Daily check-ins will help you ensure your pet will not be alone and hungry and will get the best possible care.
Give your pet the protection they need
Enjoy peace of mind knowing your pets will be entrusted to your loved onesif something happens to you. If you can no longer care for your furry friend, everyone who needs to know will be notified within 24 hours, including your relatives, friends, and even the vet.
Keep Your Family and Friends Notified
We will call you every day at a time of your choosing to ensure you are OK. If you are unable to answer our daily call for some reason, we will alert a group of people you have previously shared with us.
Set up check-ins for the days and times that suit you the most. Need more than one call during the day? Set any frequency you like.
Invite friends, neighbors, and relatives to your Care Circle. Each Care Circle may have up to 8 members.
Require callback after successful check-ins. Let your loved ones know you need their help.
Don't let daily check-in calls interrupt your routine. Check in anytime before the regular call.
Choose the check-in method that is most convenient for you. Check in from the alternative designated phone number or by logging in on the website.
Configure custom reminder messages for each day of the week
Step 1 Sign up to Iamfine
Easily set up for the daily check-ins with no software installed. Fill in the short form to sign up - personal data, time zone, and preferred contact methods.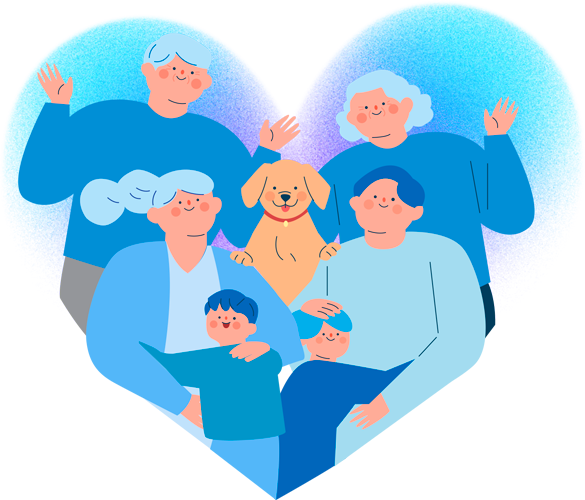 Step 2 - Create your Care Circle
Add up to 8 members to your Care Circle. They will be notified if something is wrong with you and will come to care for your pets.
Step 3 - Get Daily Check in Calls
Iamfine will make automated check-in calls to you once or twice daily, at your preferred weekdays and hours. You can always check in ahead of the daily call.
Step 4 - Your care Circle will alerted if you miss you check in
If you don't check in and do not answer the four calls within the next hour, your Care Circle members are notified. They will visit your place, check your well-being and take care of your pet.